Wearing your Jewellery & Care
Lily griffin Jewellery is daintyand delicate, so care must be taken when wearing and storing it.

Please do not wear whileexercising, swimming, gardening, showering, cleaning or sleeping. Store in asoft protective pouch or box out of direct sunlight and away from excessiveheat or cold. Avoid contact with household chemicals, perfumes, creams, and hairspray/gels.
I would be delighted if you wantedto wear my jewellery every day, but please be aware that you will be able toenjoy your hand-painted and 24k gold embellished pieces longer if they are notworn on a day-to-day basis.
For removing tarnish, I recommendusing Hagerty professional cleaning products.
All Sterling Silver Lily griffinitems can be given a 10 second swish in Hagerty Silver Clean, which shouldremove all or some of the tarnish, depending on the level of tarnish. **Please do not leave thehand-painted items in this mixture for any longer than 10 seconds. Hand-paintedpieces must be rinsed and thoroughly dried after dipping**
All Gold or gold accentedLily griffin items should ONLY be cleaned with soap and water, or Hagerty JewelClean (in the gold box). Usually, 30 seconds is enough!
HAND-PAINTED PIECES
Porcelain paint is used to addcolour to some of my pieces. The paint is heat fired, so is scratch and waterresistant, however, care must be taken not to knock, scratch or soak.
GOLD ACCENTED PIECES
The layers of 24k gold I use toaccent my jewellery are soft, so can be scratched; the gold will also wear anddiffuse into the sterling silver layer underneath over time as I do not useany Nickel barrier in my jewellery. Nickel can be a health hazard and is aknown allergen to some people.
GOLD FILLED PIECES
Gold fill, or `rolled gold' is(usually) a solid 14k thick layer of gold bonded on to a jeweller's brass coreunder pressure. The layer is thicker than gold plating but can be thinned outduring forging (hammering). 14k gold is more durable than 24k gold, as it is acomposite of pure gold and other materials but may still scratch or abrade.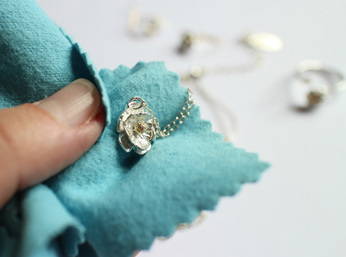 Call Now : 033650461
Email : info@seddonterrace.com
Address : Unit 1, Durham Street North, Christchurch, 8013